<![if !vml]>

<![endif]>Simcom.com
A systems integrator since 1986.
A provider of "Cloud Computing" complete Accounting and Production Management    software for Small Business since 2003.
  Our mission has been to help Accounting professionals and (Brick and Mortar and on-line) small business entrepreneurs improve their effectiveness and efficiency. 
Consistent with our stated mission, in 2003 we released and have being using  "websba.com"  the first complete, totally integrated "web based" or as it is now called "Cloud computing"  software package that included all the functions needed by a small  business to:  
1) Perform all the Basic accounting and Sales functions
2) Inventory and Production Management (Bills of Material, Work Orders, Inventory ordering and Sales Forecasting)
3) Time and Attendance with Payroll,
4) Fixed Asset Management with depreciation and
5) On line Shopping cart seamlessly integrated to  Sales orders and Inventory functions.  With this cloud computing system authorized employees accountants vendors and customers   could access business records hosted in the websba.com domain, from anywhere at any time since 2003. 
This websba.com, cloud computing software has now been reconfigured to integrate into any domain and to bring the CLOUD into any Windows Server with fast connection to the Internet.
When the system is used with Microsoft Access, it provides for data base backup and "offsite safe keeping" (database downloading and uploading).  That is, a user can download the database from the cloud for off-sit safe keeping and upload it to the cloud when needed. We found no other program in the internet offering such flexibility. It is ideal for "Brick and Mortar" business and for accounting practitioners who endeavor to expand their business and practice to the cloud.   
 The accounting features include:
General Ledger

Purchasing and Sales Order Management

Inventory Control and Production Management

Bill of Material for Product Design and Costing/Pricing

Time-phased, "Just-in-time" Material Ordering

Check Book Functions and Reporting on Financial Position
Note: All accounting functions are GAAP compliant.
The e-commerce features fully integrate with the entire accounting system.
Shopping cart and real-time order placement

Order status reviewing

Dynamic e-store generation (Changes to product description and pricing immediately
reflect on the subscriber's web site)
Some of the benefits our subscribers receive include:
Centralized data, accessed from anywhere at any time.

The system can be easily maintained by non-technical users.

Increased sales and improved customer service through e-commerce.

Improved efficiency by giving customers self-service access.

Offsite data storage with reduced overhead of incompatible programs.

Web-generated sales and web-based management.
<![if !vml]>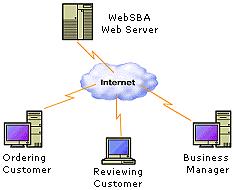 <![endif]>
The picture above depicts a typical scenario. An authorized customer is placing an order using the e-commerce features available on the WebSBA server. Simultaneously, another prospective customer is reviewing product offerings or a previous order. The business manager, with full control of the accounting modules, is releasing a customer's order and possibly acquiring any needed components from a vendor.